USA:
650-521-5275

Europe:
+44 117 205 0175


This application based product can be installed on a workstation and allows the Administrator to Monitor, Quota, and Restrict printing on the locally attached printer and any users printing to that workstation connected printer. This can also be used to track direct IP printing by deploying to all workstations within the network.

Download Free Evaluation Now!

Features

Features Grid

Request a Quote
Enterprise Edition
Built for large Enterprise networks running multiple Windows print servers and advanced setups. Read More
Single Server Edition
Built for a single Windows print server with a basic network setup. Read More



Features at a Glance
Audit locally attached printers.
Audit Direct IP Printing.
Works with Workgroups and/or Server based network setups.
Supports Active Directory.
Complete Ease-of-Installation.
Monitor and Update remotely from Administrative Console.
Set Printing Verification, Restrictions, and Budget Limits.
Data Loss Prevention.
Sarbanes-Oxley and HIPAA compliancy.
Operates as a seamless extension of the Windows printing architecture.
Runs on Windows Workstation.
Supports all Printers Makes and Models.
Client Billing and Authentication Option available.-Learn More
WebAdvantage Suite Option available.-Learn More
Web based Reports Center Option available.-Learn More
This application based product can be installed on a workstation and allows the Administrator to Monitor, Quota, and Restrict printing on the locally attached printer and any users printing to that workstation connected printer.
This tool is great for companies that have locally attached workstations that they cannot monitor or Large Format Printers that they do not want to send large print jobs over the network to, through their print server.
Once the product is installed on the workstation the Agent will appear under the Servers Tab in Print Manager Plus. Also all printers locally attached to that workstation will appear under the Printers Tab. The local service can be Stopped, Started, and Restarted remotely. The service can also be updated remotely using eUpdate.
All Quotas and Restrictions set through Print Manager Plus all apply to users printing from or through these workstations. Being able to manage and audit all printers, regardless of the network configuration makes Print Manager Plus the most versatile print management product on the market.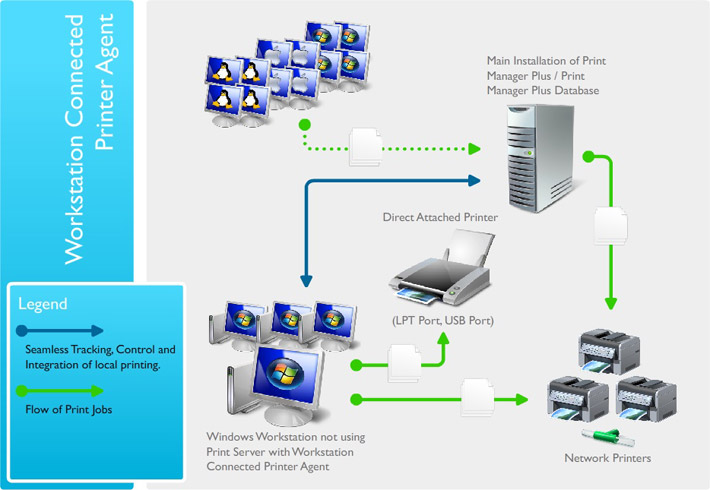 Customers Include:
Investa Property Group
Information Network Inc
ECIL Group
Ask Jeeves
Invesmart
Dealix Corporate
Ashley Furniture
Ping An Insurance Group

ICON Clinical Research
Winged Keel Group, Inc.
Sand Pebble Builders
Camiros Ltd.
AMB Productions
Schwans Consumer Brands UK Ltd
Miramar Mining Corp.
Wallace Bishop Jewellers

Mattamy Homes
Pacific Services
Norplas
Newmont Peru Limited
Salt River Project
Electrolux Home Care Products
Grundfos Pumps Corp.
What Customers Say
"We implemented Print Manager Plus to assess our printing operations and develop a plan to reduce cost. The software was easy to install and setup on our server. We were then able to look at each individual printer costs and determine that we could save about $2,000 per year just by moving users to the most cost effective printers.
"We are very happy with this product and will implement it in our Tallahassee office this coming budget year. It's a stable and very easy to use along with great support." — Chris Noyes, I.S. Technical Specialist, Florida League of Cities
What Reviews Say
"PMP is a perfect complement to Windows' built-in printer management features... In larger organizations, though, the software licenses will tend to pay for themselves because organizations using Print Manager Plus will save money each month as excessive printing is gradually reduced." — TechRepublic Review by Brien M. Posey MCSE
"Overall, I found Print Manager Plus very easy to install and manage. …for schools, universities or facilities houses which charge for a service it could be a real boon. Recommendation is mandatory." — PC-PRO Magazine Review by Jon Honeyball
Use the PrintManager.com ROI calculator to see how much your organization can save on printing.

We can guarantee that you will be surprised by the savings even with conservative estimates!
Print Management - Print Manager - Audit - Control - Security - Manage - Cloud Printing - At Print Manager, we believe in great technology. We believe great technology can and should delight people. And we believe in going the extra mile for our users and making the perfect product. We hate waste and the negative effects on our environment which comes from a printer industry geared to sell you more paper, more ink and more printers. They are not incented to give you control over this waste, but we are. We believe that great technology can put IT in control of waste and let you get on with your job.
Copyright © 2022 Print Manager. All Rights Reserved.
PRINT MANAGER HEADQUARTERS | 932 Santa Cruz Ave. | Suite B-1 | Menlo Park, CA 94025 USA | 650.521.5275